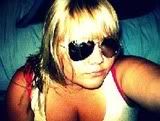 I'm Stephanie, 23.
Don't like what i post don't follow.
I post/reblog mostly the following:
Supernatural, Sex, Tattoos, HCR, Teen Wolf, Criminal Minds, BTR, Shoes. Pretty much anything I fancy.
I do not take credit for any of the pictures/videos I post unless otherwise noted.
Don't know why but this song is stuck in my head right now.